Title: Embodiment – Moving Beyond Mindfulness
ISBN: 978-1-9162492-0-2
Publication date: 28th November 2019
Formats available: Kindle and paperback
Short bio:
Mark Walsh is the founder of The Embodied Facilitator Course, Embodied Yoga Principles, The Embodiment Podcast and The Embodiment Conference. With an honours degree in psychology, 20+ years of yoga experience and an aikido black belt, he has dedicated his life to embodied learning. He has taught everyone from street kids to the rich and famous, in over 50 countries. His hobbies include offending pirates with his swearing, impressing cats with his stroking, and embarrassing drunks with his dancing.
Synopsis:
In this chaotic modern world, we've lost touch with our bodies. Often rushing, feeling tense and off balance, brutalised by overwork and lack of community, cut off from meaning, engaging in addictive or self-destructive behaviours; many of us find ourselves exhausted, overwhelmed and critically: disconnected.
Life can be numbing, and this harms us, but something can be done about it. This is where embodiment comes in. More than just being mindful, you can make friends with your body and feel at home in your own skin.
This book is a no-nonsense toolkit of practical tips, illustrative poems and deeply personal stories to help you to reconnect. It will help you to express and manage your emotions, heal trauma, and feel fully alive again.
Access the media kit by clicking below.
More About Mark
Mark Walsh has dedicated his life to embodied learning.
He founded the Embodied Facilitator Course (EFC), Embodied Yoga Principles (EYP) and Europe's first embodied business training company, Integration Training. He has taught in fifty countries and made embodiment available online through a YouTube channel with over 14 million hits.
More recently, he founded The Embodiment Podcast, and in 2018, launched the ground-breaking Embodiment Conference, which was attended by over 15,000 people. He has also published articles on numerous websites, such as Elephant Journal, and been featured on many podcasts.
As a speaker, he has keynoted The International Coach Federation's annual UK conference, and spoke at Moscow State University psychology department.
He has an honours degree in psychology, an aikido black-belt and has trained with various body-mind masters and in various approaches, including yoga, NonViolent Communication, Feldenkrais, conscious dance, Being-In-Movement, Improv, MMA, Leadership Embodiment, body psychotherapy and meditation.
Generally, these days he dedicates himself to teaching other teachers and mentoring young embodiment teachers, but his past clients include IKEA, Unilever, L'Oréal, Virgin Atlantic, AXA, Shell, Sussex University and The House of Lords.
He has also worked in peace and trauma projects in Israel/Palestine, Afghanistan, Ukraine, the slums of Brazil, East Africa and with the Sierra Leonian Army.
Based in Brighton UK, he likes cats, his wife Daria, and feels ridiculous writing about himself in the third person.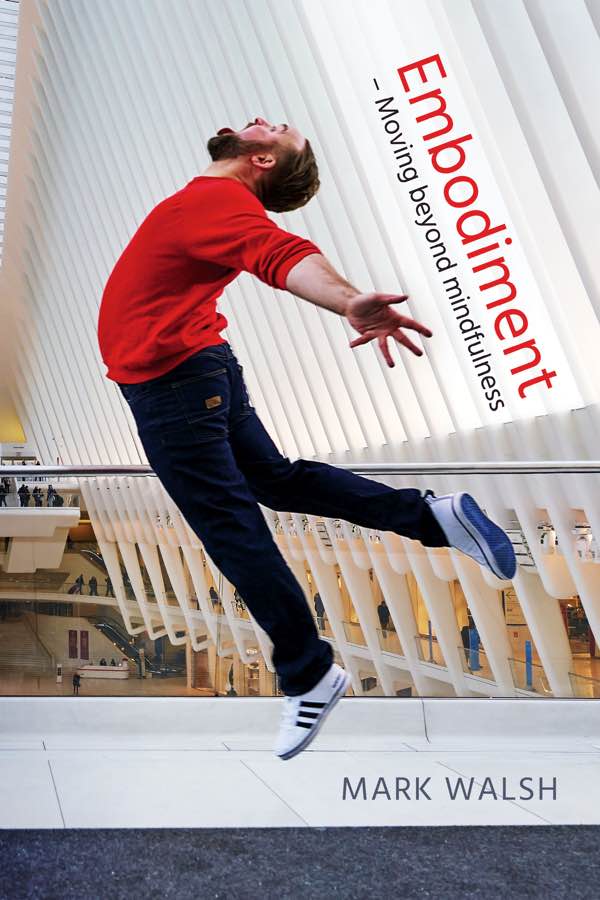 Praise
"Human development involves our full body, mind, and heart. Mark is completely committed to the fullest expression of who we can be, with nothing left out."
– Diane Musho Hamilton, Zen Master, meditator, group facilitator
"Our times are wild, wonderful, weird and warped. We are both the luckiest people who have ever lived and the most alienated, confused and overwhelmed. A "consensus trance" dumbs us down, but we can awaken from it in many ways. None is more immediate and tangible than awakening from the pervasive illusion that has so many lost in thought, imagining the body radically separate from consciousness and all that is sacred. Mark Walsh recognized this as an enormous opportunity, and he has seized upon it with zeal, gusto and wide-ranging intelligence. In Embodiment, he gives voice to a joyous, angry, sensual war-cry — the body ferociously reclaiming its primacy in a disembodied world."
– Terry Patten, author, A New Republic of the Heart, co-author Integral Life Practice
"A brilliant book, distilling decades of embodied exploration with a unique blend of wisdom, wit, irreverence, and humour."
– Joel & Michelle Levey, founders Wisdom at Work, authors of Mindfulness, Meditation, and Mind Fitness
"Mark has written a down-to-earth accessible classic that's much needed in our often numb world. I'm an ex rock star and this book is marginally better than groupie sex, drugs and rock n' roll."
– Jamie Catto, film-maker, author, workshop leader, ex Faithless singer
"Fun, accessible, fresh, while still grounded and full of profound insight, Embodiment is a must read for all humans."
– Jessica Graham, Author of Good Sex: Getting Off without Checking Out